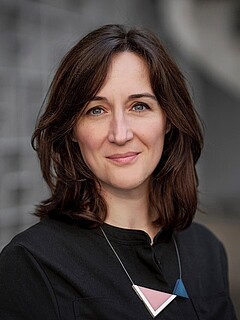 Curriculum Vitae
Adria Daraban born in 1980, studied Architecture at the RWTH Aachen University and graduated in 2009. Her thesis "Slawisches Epos" received the Friedrich Wilhelm Award of the RWTH Aachen University, the Euregional Prize for Architecture 2009 and the Stiftung Deutscher Architekten Award of 2009. Since 2011 Adria Daraban has, among other things, been working in Research and Development as an interim professor for history and theory of architecture and urbanism at the Faculty of Architecture at the University of Applied Sciences in Munich. She is also working as a research assistant in teaching and research in architectural theory at the RWTH Aachen. In addition, she also lectures on Architectural theory at the University of Kassel. Between 2014 and 2016 she lectured on Architecture, Philosophy, Literature and Cultural Studies at the Kolleg Europe as part of the German Academic Scholarship Foundation. Since 2009, she has been working as an architect and publicist and is a co-publisher of the online newspaper "Archimaera". She has also written for architectural journals "Archithese and Manege für Architeckture.
She is an associate PhD student of the Research Training Group Romanticism as a Model since May 2018.
PhD project (finished)
Figures of the Fragmentary. Architecture Specific Concepts of the Fragmentary in Modernism
As a recurring topos in architectural discourse, the fragment in its traditional function, questions legitimised categories of totality and conventions of authority. In this function, the school of thought of the fragmentary accompanies universalistic discourses of modernism, behaves reflectively, critically and complementary, attaining an absolute dominance in the architectural debate in the second third of the 20th Century. The architectural panorama unfurls to reveal different manifestations of the fragmentary, which all examine the traditional concept of the whole.
The argument of this thesis pre-supposes that a part of the modern discourse in architecture, instead of operating according to universal laws, concentrates on work-concepts in which requirements for insularity and finality, totality and integrity of architectonic works are relinquished in favour of a new, infinitely more complex understanding of these works, signifying the intimate relationship between time and fragment.
The outward form of this phenomenon points to a concept of the fragment particular to architecture that emancipates itself in increasing measure from its evocative pictorial character to become an instrument for the production, re- and new interpretations of spatial planning.
Publications
Editor
2019 Miterausgeberin der *archimaera* Ausgabe Nr. 8/2019 Atmosphären. Atmospheres, gemeinsam mit Daniel Buggert, Karl R. Kegler, Felix Martin, Anke Naujokat und Rainer Schützeichel
2017 Mitherausgeberin des Ausstellungskatalogs Andere Orte zur gleichnamigen Ausstellung, gezeigt 2016 im Reiff-Museum Aachen und 2017 im Rathaus Lünen, gemeinsam mit Prof. Axel Sowa, Lehr- und Forschungsgebiet Architekturtheorie RWTH Aachen
2015 Mitherausgeberin der *archimaera* Ausgabe Nr. 6/2015 Einfügen. Insertions, gemeinsam mit Rainer Schützeneichel (GTA/ETH Zürich)
Articles
2020 Das Modell des Fragmentarischen. Erfahrungen der Moderne in der Architektur, in: Romantische Urbanität, Gisela Mettele und Sandra
Kerschbaumer (Hrsg.), Wien, Köln, Weimar, 2020, S. 213-241
2018 Representations of the Fragmentary in SAJ 2018-02: architecture between intellectual and sensory reason: regarding phenomenology, Jörg Gleiter und Sandra Meireis (Hrsg.), Belgrad, 2018, S. 157-172 saj.rs/representations-of-the-fragmentary-in-modern-architecture/
2017 Figuren des Fragmentarischen, in: Mimetische Praktiken in der neueren Architektur. Prozesse und Formen der Ähnlichkeitserzeugung, Eva von
Engelberg-Dočkal, Markus Krajewski, Frederike Lausch (Hrsg.), DFG-Research Group Medien und Mimesis, Heidelberg: arthistoricum.net, 2017, S. 168-183 https://books.ub.uni-heidelberg.de/arthistoricum/catalog/book/221
2016 Erbgut. Über die Bürde des familiären Erbes am Beispiel des Nachlasses von O. M. Ungers und die Frage nach der Übergabe am Beispiel von O&O Baukunst mit Martin Bachem in Generationen. Vorbereitung für den Wandel, Manege für Architektur 1.2016, Berlin, 2016, S. 16-19
2016 Konstellationen des Denkens. Hans Scharouns Geschwister-Scholl-Schule in Lünen – eine frühe Alternative zur Moderne in Postmoderne-neu gelesen, archithese 2016.3, Zürich, 2016, S. 78-83
2014 Ein Haus als kleine Stadt. La Maison de L'Ecriture in Montricher in Swiss Performance 14 archithese 2014.1, Zürich, (2014), S. 22-29
2013 Das Hässliche und das Fremde. Ca' Brütta in Schön Hässlich Kitschig – Konstruktiv, Natalie Walter (Hrsg.), Aachen, 2013, S. 29-37
Awards and nominations
2014 Lehrpreis der Architekturfakultät RWTH Aachen
2010 Friedrich Wilhelm Preis der RWTH Aachen für die Diplomarbeit Slawisches Epos
2010 Förderpreis des Landes NRW 2010 für die Diplomarbeit Slawisches Epos und das Projekt Haus des Plinius
2009 Förderpreis der Stiftung Deutscher Architekten, Annerkennung, 2009
2009 Euregional Prize for Architecture 2009 für die Diplomarbeit Slawisches Epos
2009 Nominierung für den Künstlerinnenpreis Nordrhein-Westfalen 2009