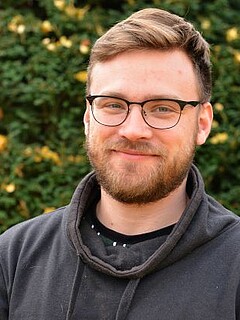 Matthis Glatzel, Dipl.Theol.
Friedrich-Schiller-Universität Jena
DFG-Graduiertenkolleg "Modell Romantik"
Bachstraße 18k | R. 109
07743 Jena
+49 3641 945 578
matthis.glatzel@uni-jena.de

Curriculum Vitae
10/2013-07/2020 Studies of Protestant Theology in Mainz, Frankfurt and Leipzig
10/2017-12/2020 Studies of philosophy in Leipzig
04/2017-09/2020 Student assistant in the DFG-project "Corpus Inscriptorum Vitebergense".
2020 Diploma of Theology
2021 Bachelor of Arts in Philosophy
01/2021-09/2021 Research Assistant at the Research Training Group "Model Romanticism"
01/2021-12/2021 Research Assistant at the Leipzig Lab, group "Intangibles"
Since 10/2021 Fellow at the Research Training Group "Model Romanticism"
PhD project
Schleiermacher's Romantic Psychology as a Reference Theory of a Humanistic Study of the Soul
The great church father Friedrich Daniel Ernst Schleiermacher wrote in his early romantic phase with the "Reden über die Religion" from 1799 probably his best known and most received work. This work - which was largely inspired by his roommate Friedrich Schlegel - was among others influenced by psychological considerations. A field that Schleiermacher had already taken up a year earlier in a critical discussion of Kant's anthropology in the journal Athenaeum, published by the Schlegel brothers. It lasts until 1818, Schleiermacher ventured to write his own psychological outline in form of a lecture. Within the development of philosophical-psychological theorizing - between Wolff and Kant on the one hand, Dilthey and Husserl on the other - his work offers a decisive point of reference. The planned PhD thesis assumes that this view of soul and consciousness, which is due to a romantic transformation, also offers valuable theoretical content for contemporary systematic theology and psychology of religion. In order to demonstrate this, it reconstructs the contemporary discourses and the state of academic psychology at that time, examines the genesis of Schleiermacher's conception, discusses the basic terms and the methodological procedure of this conception, and finally asks about the systematic-theological connectivity of this draft of a philosophical psychology. The source of the study are the four lectures on psychology that Schleiermacher gave in Berlin between 1818 and 1834.
Schleiermacher's intensive confrontation with the Jena circle around the early Romantics Friedrich Schlegel and Novalis and their - ostensibly literary - treatment of the phenomenon of (religious) inwardness suggests that Schleiermacher's psychology can be seen as a reshaping of this prefigured model, with a productive absorption of it.
Publications
Articles
"Beendete Tätigkeit. Überlegungen zum ontologischen Status des Leichnams vor dem Hintergrund der Psychologie Friedrich Schleiermachers" in Florian Priesemuth (Hrsg.): "Unverweslich. Zur Würde des Leichnams", Leipzig 2023, S. 29-50.
with Florian Priesemuth: "Die evangelische Kirche und die Hüter der Verfassung. Zur Theologie in den Stellungnahmen der EKD beim BVerfG" in ZevKR (67/2022), S. 196-206.
with Margitta Dümmler and Alisia Groicher: "Zur Fragilität der Deutungshoheit innerhalb ästhetischer Erfahrung – ein Experiment" in "beRÜHRUNGen" Jahrestagung 2020 pop.religion e. V. [erscheint 2022 bei Springer VS]
Varia
Rezension "Christian Rebert: Lebenssinn Familie: Bedeutungsdimension von Geschlechter- und Generationenverhältnis im Anschluss an F. D. E. Schleiermacher", in ThLZ (5/2023), S. 489 – 491.
"Religionsphänomenologische Überlegungen zu Karl Ove Knausgard", in feinschwarz.net/, 25.02.2023.
Rezension "Annette Haußmann, Niklas Schüz, Peter Schüz: Die Entdeckung der inneren Welt. Religion und Psychologie in theologischer Perspektive." in ThLZ (5/2022), S. 504-506.
Rezension gemeinsam mit Sigmund Jakob-Michael Stephan "Agnieszka Haas, Timo Janca: Annäherungen an das Innere des Menschen. Diagnosen und Therapien des Seelischen in der deutschsprachigen Literatur und Ästhetik.", in Gestern | Romantik | Heute, 2022.
Rezension "Michael Schwingenschlögl: Subjektivität zwischen Zerfall, Willensfreiheit und Religion, Untersuchungen zur Verhältnisbestimmung von Einheit und Mannigfaltigkeit in der literarischen Romantik, Paderborn 2019.", in Gestern | Romantik | Heute, 22.06.2021
"Inner Human Being, Rehabilitation of Theological Motif in Light of the Psychology of Friedrich Schleiermacher" in "New Apporaches to Romanticism" Graduate Student Blog Series, 09.03.2021
Kulturbericht: "Closed, Now Online!" in Gestern | Romantik | Heute, 31.03.2021
Talks and Lectures
"Spiritualität als Resonanzstreben" in "Münchner Kolloquium für Religionsphilosophie 2022: Spiritualität mit und ohne Gott", 10.10.2022.