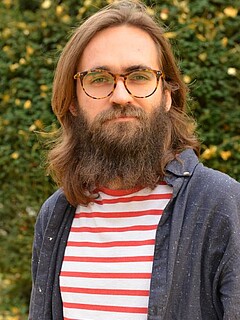 Andrew Wildermuth, M.A.
(10/2021-03/2022)

Curriculum Vitae
2012-2014 Bachelor studies at Anne Arundel Community College
2014-2017 Bachelor of Arts in English at St. Mary's College of Maryland
2018-2021 Master of Arts in North American studies at Friedrich-Alexander University Erlangen-Nuremberg; research assistant and copyeditor in Islamic Religious studies and North American studies
seit 2021 PhD student and research associate in North American studies in Graduiertenkolleg "Modell Romantik"
PhD project
New World Ordering: Romantic Poetics, Transforming Colonized Ecologies, and the American and Harlem Renaissances
In this comparative dissertation project I read literary examples of the American and Harlem renaissances for the ways they employ romantic discourse – of home, of seasons, of intersecting natural, cultural, and cosmic forces – toward a transformation of life on a colonized American continent. As scholars have read traditionally romantic authors like John Clare and William Wordsworth, I suggest that texts by exemplary authors of these renaissances – especially Margaret Fuller, Claude McKay, and Jean Toomer – situate themselves as dynamic forces in postcolonial ecologies: reshaping malleable networks of human and non-human fields of power, and thereby building new material-discursive worlds. Through new materialist, romanticist, Black studies, and ecosemiotic theoretical approaches, I build comparative critical close readings of these renaissance – or rebirth – literatures alongside, and in resistance to, modern power over land and life.
Publications
Criticism:
"'Water, Water Everywhere': Converging Flows of Power at Niagara Falls in Margaret Fuller's Summer on the Lakes." Iperstoria 18 (Spring 2022). Forthcoming.
"Measured Life: Making Live, the 'Modern System of Science,' and the Animated Bodies of Frankenstein." ZAA: Zeitschrift für Anglistik und Amerikanistik 69, no. 4 (2021): 331–48.
"'A Thing Apart': Sonnet Poetics and Radical Politics in Claude McKay's Harlem Shadows." aspeers 14 (2021): 15–31.
Select poems:
"Subdued Ochre," Miracle Monocle
"Fault Line," Cold Mountain Review
"Amerikanistik," Columbia Journal
"Hide the Screens," EcoTheo Review
"The New Law," "Peripatetics," "The New Frontier," "Stripes," SOFTBLOW
"The End of a Line," Yes, Poetry
Talks and presentations
Panelist for Bavarian America Academy's "A View from Abroad: Young Scholars' Panel on Election Night 2020," November 2020
Poetry reading at FAU Language Lab poetry reading, August 2020, Erlangen
Poetry reading at RIIA "Mobilities and Transformations" conference, July 2019, Erlangen