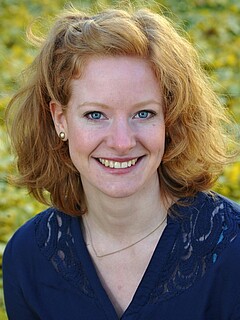 Dr. Annika Bartsch
Friedrich Schiller University Jena
Research Training Group "The Romantic Model"
+49 (0) 3641 9 401330
annika.bartsch@uni-jena.de

Curriculum Vitae
Dr. des. Annika Bartsch (born 1988) studied German language and literature studies, history and philosophy at the University of Freiburg and Dalhousie University in Halifax, Canada, from 2007 to 2011. At Dalhousie University she taught two conversation courses for intermediate German. From 2011 to 2014 she completed her Master of Literature, Art, and Culture at FSU Jena, majoring in modern German literature. During her studies she was employed as a research assistant in the department of modern German literature, in the Klassik Stiftung Weimar and in the Ernst Klett Schulbuch Verlag in Leipzig. After completing her Master's she worked as a research assistant in the 'Laboratory of the Enlightenment' research centre and in the Klassik Stiftung Weimar. From 2008 to 2014 Annika Bartsch received a scholarship from the German National Academic Foundation. For her thesis project she first received funding in 2015 from a state graduate student scholarship at FSU Jena. She was a PhD student at the 'Romanticism as a Model' research training group from October 2015 through September 2018. In October 2018, she could secure a scholarship with DFG for her Postdoc-Project "Gestalt und Funktion Unzuverlässigen Erzählens in historischer und gattungsspezifischer Perspektive" with the research training group. She completed her PhD in February 2019.
PhD project (finished)
The Romantic Model: Re-thinking Romanticism in Contemporary German Novels
Romanticism can be recognised across many examples as an important point of reference for contemporary literature and art. The aim of the PhD project is to analyse the form and manner of this productive reception in German novels of the last two decades and to answer the question of the importance and function of re-thinking Romanticism for these particular authors or a possible group of authors. The work fills a gap in research, as a suitable methodology to describe, contextualise and interpret rejuvenation processes has been absent to date. The relevance of the dissertation project lies in its methodological development of a Romantic Model which can then be used as a point of reference for analysing selected contemporary novels. A methodological examination using the term 'model' and the status of the model is required before closer textual analysis can be undertaken. Contemporary texts, for instance: Helmut Krausser: Thanatos (1996); Hans-Ulrich Treichel: Tristanakkord (2000); Felicitas Hoppe: Paradiese, Übersee (2003); and Wolfgang Herrndorf: Tschick (2010) and Diesseits des Van-Allen-Gürtels (2007), that have not yet been extensively researched to date have been selected and analysed in terms of their specific approach to updating the Romantic model, its associated epistemology, worldviews, and their poetic position.
Publications
Monograph
Romantik um 2000. Zur Reaktualisierung eines Modells in deutschsprachigen Romanen der Gegenwart, Heidelberg 2019.
Articles
Zwei 'Taugenichtse' im geklauten Lada. Zur produktiven Romantikrezeption bei Wolfgang Herrndorf, in: Standke, Jan (Hg.): Wolfgang Herrndorf lesen. Beiträge zur Didaktik der deutschsprachigen Gegenwartsliteratur, Trier, WVT 2016, S. 111-130.
Gastherausgeberin (zus. mit Jill Thielsen): Zeitschrift für Germanistik 1/2021. Schwerpunkt: Unzuverlässiges Erzählen in der Gegenwartsliteratur. Darin: Funktionen unzuverlässigen Erzählens in der deutschsprachigen Gegenwartsliteratur. Einleitung, S. 7-18.
Varia
Ein Abend mit Thea Dorn – Lesung aus Die Unglückseligen im Jenaer Volkshaus, in: Blog Modell Romantik, 24.05.2016
(Zs. mit Daniel Grummt/Raphael Stübe/Mareike Timm): Von Ritterreisen, einem Schelmenroman und romantischen Dystopien: Eine Veranstaltungsreihe zu "Romantik & Gegenwart" mit Felicitas Hoppe, Hendrik Otremba, Ingo Schulze und Andreas Spechtl (20./21.11.2017), in: Blog Modell Romantik, 20.12.2017
Rezension zu: Svenja Frank/Julia Ilgner (Hg.): Ehrliche Erfindungen. Felicitas Hoppe als Erzählerin zwischen Tradition und Transmoderne. Bielefeld 2017, in: PhiN 82 (2017), S. 50-54.
(Zs. mit Jacob Schmidt): Romantik 2.0 als progressive Bewältigungsstrategie in der virtuellen Moderne. Augmented Reality als Reaktion auf die gegenwärtige romantische Sehnsucht, in: Gestern | Romantik | Heute, 11.01.2018
Rezension zu: Antje Arnold/Wiebke Danneker (Hg.): Die Kunst de Ordnung. Standortbestimmungen gegenwärtigen Erzählens. Würzburg 2017, in: Jahrbuch Gegenwartsliteratur 17 (2018), S. 349-351.
Presentations
"Woher kommen wir, wo sind wir, wohin gehen wir?" – Zur Reaktualisierung des Modells 'Romantik' in Felicitas Hoppes 'Paradiese, Übersee' [Colloquium of the Department of German Literature, Friedrich-Schiller-University Jena, 27. January 2016