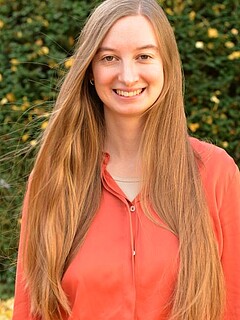 Marie Jonietz, M.A.
Friedrich-Schiller-Universität Jena
DFG-Graduiertenkolleg "Modell Romantik"
Bachstraße 18k | R. 111
07743 Jena
+49 3641 944-197
marie.jonietz@uni-jena.de

Curriculum Vitae
2014-2017 Bachelor of Arts in Folklore/Cultural History and German Linguistics, Friedrich Schiller University Jena
2015-2017 Student assistant at the University Library Jena in the field of manuscripts and special collections
2017-2020 Master of Arts in Subject Didactics/Mediating Culture with focus on Didactics of the German Language and Literature and Didactics of History, University of Augsburg
2018-2019 part-time job as an assistant for a PhD, University of Augsburg
2019-2020 part-time job at Public Relations Department, Staatstheater Augsburg
January 2020-March 2020 Internship at Kulturamt Augsburg, Brechtbüro: Support for the organisation of Brechtfestival 2020
October 2020-March 2021 Volunteer Editorial Staff/Corporate Publishing at mk Medienmanufaktur, Augsburg
April 2021-September 2021 Junior Owned Media Consultant with focus on content/online editing at iProspect/dentsu international
since October 2021 Freelance editor for denstu Germany GmbH
since October 2021 Member of the graduate school "Modell Romantik"
PhD project
Celticism as a Romantic Project – the Gaelic Revival around 1900
My dissertation project examines the relationship between Celticism, Romanticism, and Irish national identity. Its core objective is the interpretation of Celticism as a variant of Romanticism. The focus consequently lies on the significance of Celticism as a Romantic project for the "invention" of the Irish nation.
The connection between Celticism and Romanticism is repeatedly referred to in the margins of the research literature, but, to my knowledge, an in-depth analysis of the topic has not yet been conducted. My research project is therefore based on the assumption that the contemporary concept of Celticism is Romantically influenced. It utilizes the novel research perspective offered by model heuristics of the Research Training Group "Modell Romantik", enabling a model-like access to the phenomenon of Celticism. Within this framework, I examine on the one hand the period around 1800 as the original epoch of British Romanticism, and on the other hand the period around 1900, in which Celticism as part of the Gaelic Revival assumed new virulence in the context, and became an ideological cornerstone of the Irish liberation movement.
I operationalize the Gaelic Revival via the method of historical network analysis. In other words, I examine various agents of the Gaelic Revival and the Irish national movement, such as William Butler Yeats, Lady Gregory, Maud Gonne, Patrick Pearse, Constance Markieviecz, and Douglas Hyde, their connections to each other, the cultural and political organizations in which they were active, and their daptation of Celticist motifs.
Moreover, it should be noted that Celticism is not an exclusively Irish phenomenon, which is why the transnational dimension of Celticism – for example in the form of Pan-Celticism – cannot be ignored. In the context of "Invented Tradition," Scotland, Wales, Brittany, and the Irish diaspora in particular come into focus. In this way, my research project peripherally examines the extent to which national and transnational levels of meaning intertwine in Celticism as a projection screen for collective identity.